Friday December 6th, 2013
8:00 AM - 10:00AM

:: Registration and Breakfast

Meet us in front of the Amelia Ballroom (our main session room in the conference center) for event registration. Grab your bag and badge and then meet your fellow RobotsConf attendees over breakfast.
9:00AM - 9:30AM

:: Opening Remarks and Introductions from the RobotsConf Team

Conference introductions and a quick overview of how RobotsConf will work (for those of you that aren't reading this schedule). We will introduce you to the staff and the experts we have assembled at the event to help you build amazing things throughout the next 36 hours. These individuals will be your guides on the journey towards hardware enlightenment, take full advantage of the time you have with them!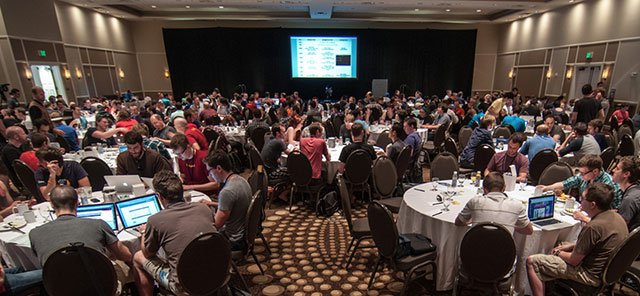 9:30AM - 10:00AM

:: Whurley - Killer of Futurists

Just be there.
10:00AM - 10:30AM

:: Slyvia Todd and James Todd

The Super Awesome Maker Sylvia Show comes to RobotsConf!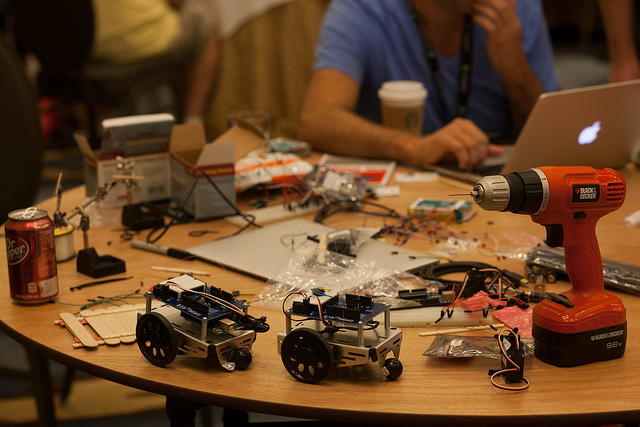 10:30AM - 10:45AM

:: Small Group Breakout

The remainder of the scheduled events for the day will be a blend of surveys and small group hands-on sessions working through specific workshops. During this time you will identify your small group that you will be working with, kick around ideas, or just decide to let the bot visions come to you over time.
10:45AM - 3:45PM

:: Workshop Surveys

The following surveys are designed to provide you with a quick, rapid fire overview of each of the major segments within the Maker movement. By the end of this period you will be knowledgeable about all of the areas and hopefully have identified a small subset that deeply interest or excite you. The goal of these workshops isn't necessarily to explain everything in 20 minutes (an impossible task), but to give you enough insight to know if you need to return to the workshop later to accomplish your robotic goals! Think of it as speed dating for the maker movement.
10:45AM - 11:05AM

:: Electronic Fundamentals Survey

Presented by Chris Williams.
11:05AM - 11:25AM

:: Soldering, Wiring, and Prototyping Survey

Presented by Joe Flasher and Zach Saale.
11:25AM - 11:45AM

:: Microcontrollers and the Internet of Things Survey

Brought to you by Spark Devices. Presented by Chris Continanza.
11:45AM - 12:05PM

:: Wearables Survey

Presented by Sara J. Chipps.
12:05PM - 1:05PM

:: Lunch

Food is the fuel that will drive you through the next couple hours. Fill up on food and conversations about hardware hacking and robots before we enter into the workshop component of the event. The lunch will have vegan-friendly options and strict vegan meals available upon request.
1:40PM - 2:00PM

:: 3D Printing and Modern Fabrication Survey

Brought to you by GitHub. Presented by Susan Hinton and Mike Skalnik.
2:00PM - 2:20PM

:: Home Automation Survey

Brought to you by Twilio. Presented by Jon Gottfried.
2:20PM - 2:40PM

:: Robotics and ROS Survey

Brought to you by Heroku. Presented by Ari Rizzitano and Pawel Szymczykowski.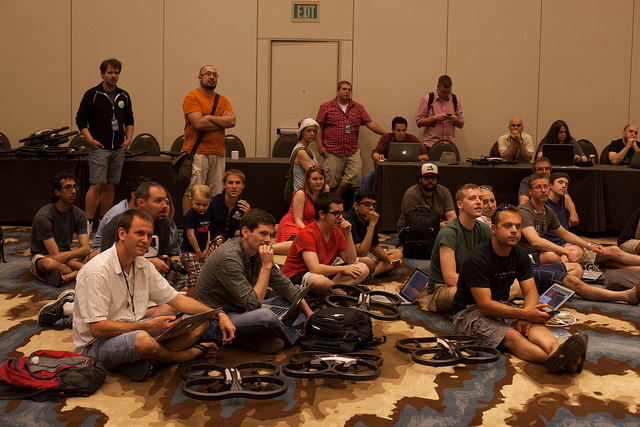 2:40PM - 2:55PM

:: Snack Break
2:55PM - 3:15PM

:: Hackerspace Survey

Brought to you by Maker Garage. Presented by Max Wallace.
3:15PM - 3:35PM

:: Interaction Interfaces Survey

Brought to you by Leap Motion. Presented by Alan Davis.
3:35PM - 3:55PM

:: Drones and Autonoumous/Semi-Autonomous Vehicles Survey

Presented by Andrew Nesbitt.
3:55PM - 4:15PM

:: Artificial Intelligence Survey

Presented by Angelina Fabbro.
4:15PM - 1:00AM

:: MAKE YOUR ROBOT!! Open Hack Time

If you have an idea and a team, you can start breadboarding and soldering items together to build your invention, otherwise use this time to form a team (or go solo, that is perfectly fine!) and come up with what you are going to build. For those so inclined, we will be hosting the first of several sumobot tournaments starting at 10:30PM with bots controlled by our local high-level language experts. The tournament is a great way to start down a path of building something that you can then compete and evolve over time. For an example of what a sumobot tournament will look like, see below:

During the open hack, you will have you have access to the best possible people in your preferred language there to help (and independence for when you don't) as well as all of the workshop experts. There will be drones available to hack on, solder stations ready to melt metal, and more servos than you can possibly imagine. The evening will buzz with the excitement and energy that only comes when you are building your very own electronic inventions.
8:00PM - 11:00PM

:: The GitHub Robot Drive-In Theater

RobotsConf is not just about soldering components together, but also about bringing people together. As such, GitHub is providing you with a great evening social event, while still allowing you to participate in the Open Hack night (or just discuss and watch). Right in the same area as the open hack event, we will be hosting a one of a kind, '80s flashback (with appropriate robotic themes) drive-in movie theater event. Complete with hot buttered popcorn, hot cocoa, and warm blankets, we will be presenting some of the finest 1980's robot flicks ever to grace the big screen. Break away for a full movie or just drop in for the key scenes, it is completely up to you. The theater will be just outside of our hacking space so you need not fear missing out on something or being detained for a long period of time. If you want to take a complete break from the day, there will be fires going around the heated pool... so there is that option.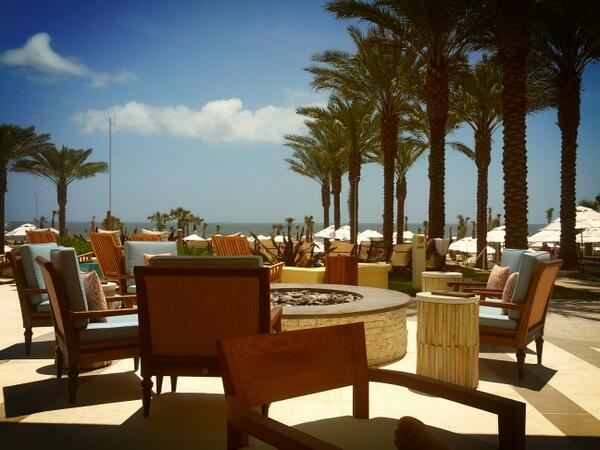 Saturday December 7th, 2013
9:00AM - 4:30PM

:: BUILD ONWARD!! Open Hack Time

Continue to hack forward after a refreshing bit of sleep (or pool time, if you prefer) as you race to the finish line of the RobotsConf Science Fair. We will provide food and refreshments throughout the day so you can stay at the top of your hacking. If you finish early or just want to declare you bot complete, you can go learn more at each of the workshop stations or offer to support any of the sumobot teams as the battle to the championships. We want everyone to have a great time and to learn and experience as much as possible while we have the experts and hardware readily available, so if you have time and desire to start another project, please get to it! You are only confined by your motivation and the amount of time we have the space.
11:30AM - 12:45PM

:: Lunch

The final fill up during the open hack sessions, use this time wisely to either continue building or spying on your competition. The lunch will have vegan-friendly options and strict vegan meals available upon request.
3:30PM - 4:30PM

:: RobotsConf Science Fair

Every team will be given a period of time to present before the RobotsConf audience about their creations and their efforts to make it. The domain experts and keynote speakers will detemine which group shall win the coveted (well, we hope it will be) RobotsConf Cup as best in show of the RobotsConf Science Fair. Also, the final winners of the sumobot competition will be announced as well as provided with a bit of time to describe their strategy to victory.
4:45PM - 5:15PM

:: Kawandeep Virdee - Relational Computing: Making art we can do together

Love is the playful, joyful moments we share. It is the improvised rulemaking and creativity between us. We can use physical and software computing to manipulate interpersonal interactions to create joyful experiences.

I put up interactive public art with New American Public Art to grow the public space in a city, to use creativity as a means to meet one another- be that with glowing sound-responsive LEDs, giant magnetic planets, spinning geodesic spheres, or crowdsourced graffiti to fill a city with hearts. The focus of the art is not person <-->art object, but person<-->person as they both interact with the art object. With new interfaces for interaction, as well as hardware to build on top of, we have more opportunities to bring creativity and technology into the city through interactive art.
5:15PM - 5:45PM

:: Marc Goodner - Start a Movement

Do you lack a place to get together with other Makers at work? Make one. –Talk +Do is the ethos of The Garage. This is a story of how that was applied in one company that led to an internal Maker movement that is still growing. It's happening at other companies as well. Learn from this example and make the next one yours.
5:45PM - 6:00PM

:: Wei Lau - US STEM

Robotics as a platform for inspiring students and making learning FUN.
6:00PM - 6:30PM

:: Final Remarks and Family Photo

The final remarks from the RobotsConf team, a thank you to all sponsors, workshop guides, language experts, and speakers. We finish it all off with our famous family photograph to provide the lasting image of those that survived RobotsConf 2013!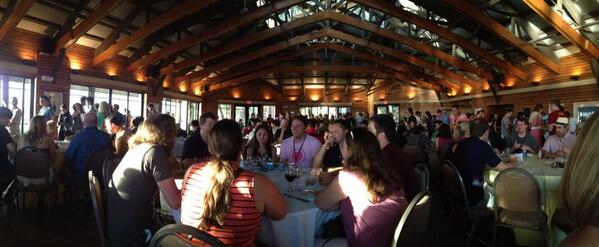 7:00PM - 11:00PM

:: The Bloomberg Big Bot BBQ

After spending almost a solid 48 hours building robots, printing plastic creations, and controlling drones - it is finally time to put down our serial ports and enjoy each others company. Enjoy an absolutely amazing evening out on the marsh with all of your new roboticist friends while you dine on local cuisine. You don't have to worry about walking their, you can take the local bus system - or if you want a rather nice bike ride, you can also bike there. See you there!